Free Will Illusion Homepage
Welcome to Breaking the Free Will Illusion for the Betterment of Humankind! Here you'll find a whole lot of information and content about one of the most pervasive illusions in the world: Free Will! Also, for an in depth look, the book is currently out as an Amazon Kindle ebook and paperback!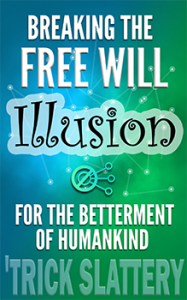 Hi, I'm August 31st 'Trick and I proclaim that free will does indeed exist.  You may find it strange that I'm saying this given that this is the "Breaking the Free WIll Illusion" website, but the reality is that posts on this website explaining why free will does not exist and what it means are not written […]
If you frequent this blog you know that I pick on compatibilism a lot, and I do so as a point of contention about definitions, focus, and problems inherent when one uses a term in a way that causes a bypass of some serious issues of concern. And though I'm very critical of compatibilism, especially […]
Just poking a little fun. Turn on closed captioning (cc) if it is not on by default!
Found by a reader of whyevolutionistrue.wordpress.com in the UK who saw this poster in a waiting room: "I was in my GP's waiting room this morning & my eyes were drawn to a poster on the noticeboard similar to the one below.  Your free will posts have so thoroughly meme-iated my head that it took me a few seconds […]
There is a common complaint that I've heard by more than one free will believer: when asked to think about "if all events are caused (deterministic) and if we could bring back time to some point before a decision was made, could the person have decided differently?", some people complain that "well we can't do […]