Free Will Illusion Homepage
Welcome to Breaking the Free Will Illusion for the Betterment of Humankind! Here you'll find a whole lot of information and content about one of the most pervasive illusions in the world: Free Will! Also, for an in depth look, the book is currently out as an Amazon Kindle ebook and paperback!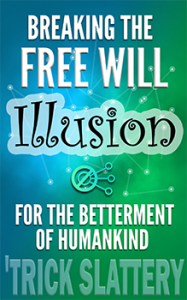 Found by a reader of whyevolutionistrue.wordpress.com in the UK who saw this poster in a waiting room: "I was in my GP's waiting room this morning & my eyes were drawn to a poster on the noticeboard similar to the one below.  Your free will posts have so thoroughly meme-iated my head that it took me a few seconds […]
There is a common complaint that I've heard by more than one free will believer: when asked to think about "if all events are caused (deterministic) and if we could bring back time to some point before a decision was made, could the person have decided differently?", some people complain that "well we can't do […]
Compatibilists and incompatibilists disagree on how the term "free will" should be defined. Rather than focus of specific compatibilist or incompatibilist definitions, Gregg Caruso and Stephen Morris wrote a paper on what is of philosophical and practical importance for the free will debate. That paper is titled: Compatibilism and Retributivist Desert Moral Responsibility: On What […]
In this post, I want to tell a little story about how a study can be negligent, and due to that negligence assert conclusions that should not be made. That study is titled "It's OK if 'my brain made me do it': People's intuitions about free will and neuroscientific prediction" by Eddy Nahmias, Jason Shepard, and […]
Today, August 31st, is the best holiday everrrr! Semantic Shift Day is the day that you redefine all things that do not exist in a way that makes it so you can say they do exist!