Free Will Illusion Homepage
Welcome to Breaking the Free Will Illusion for the Betterment of Humankind! Here you'll find a whole lot of information and content about one of the most pervasive illusions in the world: Free Will! Also, for an in depth look, the book is currently out as an Amazon Kindle ebook and paperback!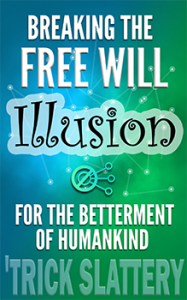 That's right, I'm creating a much needed holiday. Today, August 31st, is officially "Semantic Shift Day"! YAAAYE!! WOOOHOOO!!! HAPPY SEMANTIC SHIFT DAY EVERYONE!!!! It's the day where we change the definitions of words around for everything that doesn't exist so that we can officially, only for one day a year, say it does exist!
People often associate the idea of brain implants / microchips with some dystopia where some evil overlord controls the masses by implanting chips in their brain to take over the world with an army of people who are controlled by this mastermind. They fear any hardware that might control, to any degree, the thoughts and […]
* NOTE:The 'No Free Will Mind Training' (NFWMT) articles do NOT make the case against free will, nor is that their intention. This training is only for those who already understand free will does not exist and who want their psychology, feelings, thoughts, and actions to align with this understanding due to the various benefits. The use of the term […]
Straw-man fallacies are interesting because they are almost always intentional, though sometimes they can be unintentional. I tend to think, when a compatibilist (a person who thinks free will is compatible with determinism) uses a straw-man fallacy, that most of the time they don't do them intentionally – or at least I give the compatibilist the […]
So you have concluded that there is no free will (in the sense defined here), but you still seem to behave the same as you did when you believed in such free will. In fact, you find yourself reverting to behaviors that don't make a whole lot of sense when viewed from the understanding 'bout […]